Infographic: Changes in Food Bank Use in Canada
Food banks are one of the primary responses that municipalities have to local hunger needs. Food bank use numbers across Canada have shown growth in recent years. The below infographic, published by Global News using data from Food Banks Canada, illustrates just what the changes in food bank use numbers have been in Canada from 2008-2014.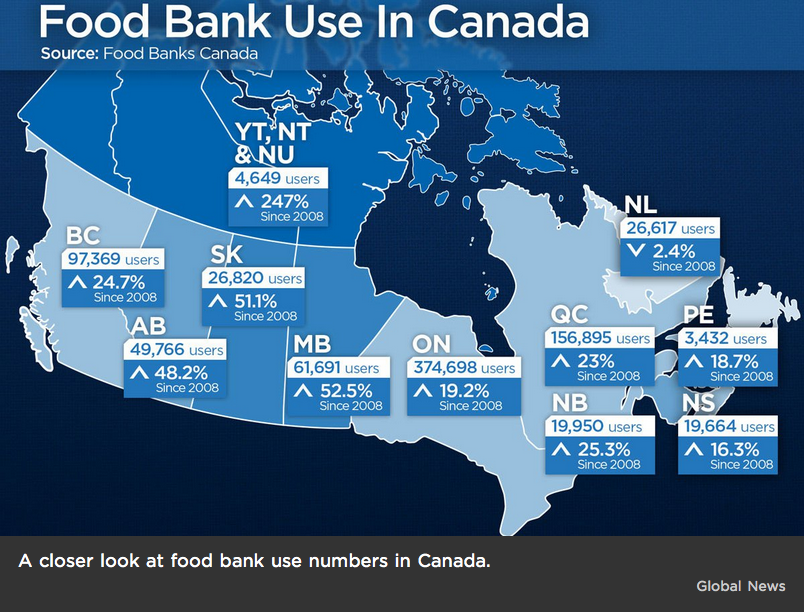 All of the provinces and territories, except for Newfoundland and Labrador, have shown significant increases in the number of food bank users. These figures are notably higher in Nunavut, the Yukon and the Northwest Territories, where a combined 247% increase since 2008 has been reported. The prairies have also seen significant increases: Alberta, Saskatchewan and Manitoba report around a 50% increase in the number of food bank clients.
When we look at the incredible need for emergency food centers that exist, one of the questions we have to ask ourselves is what can be done to reduce future reliance on food banks in Canada. In most areas, the problem with food insecurity does not have to do with regional scarcity of food; instead it has to do with distribution and availability of food. Income operates as a determinant for food access. In order to reduce food insecurity and reduce reliance on food banks, income-related policies need to be targeted. This includes policies that can increase minimum wage and social assistance rates to a level that makes it affordable to access food.
Factors contributing to household food insecurity vary region by region. In major urban areas, problems with food access are closely linked to rising cost of housing. A recent report published by the Daily Bread Food Bank, which operates in Toronto, stated that among food bank users surveyed, just $6.13 was left over per person per day after rent is paid. The same report found that 71% of participant income was spent on rent and utilities. It makes sense then, that areas that have a clear lack of affordable housing, and limited shelter allowance are also highly likely to be areas with high food insecurity.
Access to safe and nutritious food is essential for everyone's well-being. A lack of access to safe and healthy food has especially serious implications for children. The role of good nutrition in healthy development is difficult to overstate. Malnutrition during the early years of life has been linked to negative performance in later years, including adulthood. This means that children who are unable to access nutritious foods face both short and long-term disadvantages compared to youth who have access to nutritious foods. When we consider that 37% of food bank users in Canada were children, it's clear that food bank services are of critical importance to many struggling families out there.
Canada needs to invest more into preventing food insecurity. Household food insecurity in Canada is inextricably linked to policies surrounding income, the cost of housing and social assistance. Accordingly, when we're talking about measures that can be taken to reduce food insecurity, the conversation needs to be about more than just funding for food bank services. Spreading awareness about how programs need to expand, and the link between the cost of housing and food insecurity is a step in the right direction.
Vineeth Sekharan is an undergraduate student in a psychology major at York University. His interest in the elimination of barriers to accessing vital services like housing and healthcare led him to work as a research student with The Homeless Hub. Vineeth's other research interests include epidemiology, theories of power and persuasion, and literacy education. In his spare time, he likes to read a lot, write here and there, and then read some more.
Comments
Yes as Put Food in the Budget demands, we need significant increases in Social Assistance rates, the minimum wage [$15 and fairness!], the supply of truly affordable
homes, and a major increase in corporate/wealth taxation to pay for a more just, less destructive society.
These are the basic justice changes on which can be built the further changes necessary to the survival of a democratic, environmentally healthy society in Canada...see the Leap Manifesto for the beginning of that plan.
$20K shortfall threatens heavily used Iqaluit Food Bank
Nunavut faces the highest grocery costs in the country. So, it probably comes as no surprise that plenty of people in the territory simply can't afford to eat.
Now, that problem is growing into a crisis.
70 percent of Inuit families in Nunavut are food insecure, which is eight times higher than the national rate.
A $20,000 shortfall in the capitol's food bank could mean a hungry spring for some Iqaluit families in 2017.
kdriscoll@aptn.ca
http://aptn.ca/news/2016/06/03/foodbank-shortfall/
Recent Tweets
Content on this site is licensed under a Creative Commons Attribution Non-Commercial No Derivatives License
The analysis and interpretations contained in the blog posts are those of the individual contributors and do not necessarily represent the views of the Canadian Observatory on Homelessness.