Solutions: Anti-Discrimination Framework
There is great diversity within the homeless population. Some sub-populations are over-represented in Canada including Aboriginal persons, visible minorities, and amongst youth, LGBTQ2 persons. Why does this matter? Although homelessness is stigmatizing for all people who experience it, many individuals are doubly and triply marginalized due to racism, sexism and homophobia. In fact, discrimination is an identifiable cause of homelessness, for if people experience active discrimination that impacts on their ability to obtain adequate housing, work or an education, this can contribute to their experience of poverty and vulnerability to homelessness. Unfortunately many people continue to experience its negative impact once on the streets, from strangers, other homeless persons and unfortunately, from many service providers.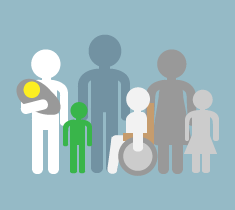 If homelessness services are the last refuge for such individuals and families – that is, they have no where else to go – then it is incumbent upon the sector to ensure that service providers to not further contribute to discrimination and marginalization. No organization should accept policies or practices that are homophobic or racist, for instance. As an example,
transgendered youth should be able to expect the full rights
, respect and the protection that they are most certainly entitled to. Young women – many of whom have experienced sexual exploitation and assault – should not be forced into services that include mixed gender clientele, as this may impact on their safety and well-being. Homelessness services – including emergency services should then not only institute anti-discrimination policies, but should ensure that they are practiced, which means providing training and support for staff and ensuring compliance measures are in place. The first rule of emergency supports should be to do no harm. Homelessness as a social and economic problem is in many ways about marginalization; the crisis response should not further entrench this.
Stephen Gaetz is a Professor in the Faculty of Education and is the Director of the Canadian Observatory on Homelessness and the Homeless Hub. He is also President of Raising the Roof, a leading Canadian charity that focuses on long term solutions to homelessness. 
Dr. Gaetz is committed to a research agenda that foregrounds social justice and attempts to make research on homelessness relevant to policy and program development. His research on homeless youth has focused on their economic strategies, health, education and legal and justice issues, and more recently, he has focused his attention on policy and in particular the Canadian Response to homelessness.  He has recently edited two volumes on homelessness in Canada, including: Housing First in Canada – Supporting Communities to End Homelessness. (2013) and Youth homelessness in Canada: Implications for policy and practice (2013). In addition, he has published a book on community-based responses to youth problems in Ireland and written numerous reports and articles published in a wide range of peer reviewed journals. Dr. Gaetz was Associate Dean of Research and Professional Development in the Faculty of Education Prior to his time at York University, Dr. Gaetz worked in the Community Health Sector, both at Shout Clinic (a health clinic for street youth in Toronto) and Queen West Community Health Centre in Toronto.
Dr. Gaetz has played a leading international role in knowledge dissemination in the area of homelessness. York played host to 2005's Canadian Conference on Homelessness – the first research conference of its kind in Canada. In addition, York University now hosts the Canadian Observatory on Homelessness and the Homeless Hub the first comprehensive and cross-disciplinary web-based clearinghouse of homelessness research in the world. The focus of this network is to work with researchers across Canada to mobilize research so that it has a greater impact on homelessness policy and planning.  Through the CHRN Dr. Gaetz is publishing policy relevant research, including two recent reports on youth homelessness: A Safe and Decent Place to Live: Towards a Housing First Framework for Youth. (2014) and Coming of Age:  Reimagining our Response to Youth Homelessness in Canada. (2014), as well as The Canadian Definition of Homelessness (2012), The Real Cost of Homelessness. Can we save money by doing the right thing? (2012), Can I See Your ID?  The Policing of Homeless Youth in Toronto (2011), and  Family Matters: Homeless youth and Eva's Initiatives "Family Reconnect" Program. (2011).
Recent Tweets
Content on this site is licensed under a Creative Commons Attribution Non-Commercial No Derivatives License
The analysis and interpretations contained in the blog posts are those of the individual contributors and do not necessarily represent the views of the Canadian Observatory on Homelessness.