Solutions: Prevention
There are three main ways you can address homelessness:
Prevention – Stopping people from becoming homelessness in the first place.
Emergency Response – Providing emergency supports like shelter, food and day programs, while someone is homeless.
Housing, Accommodation and Supports – The provision of housing and ongoing supports as a means moving people out of homelessness.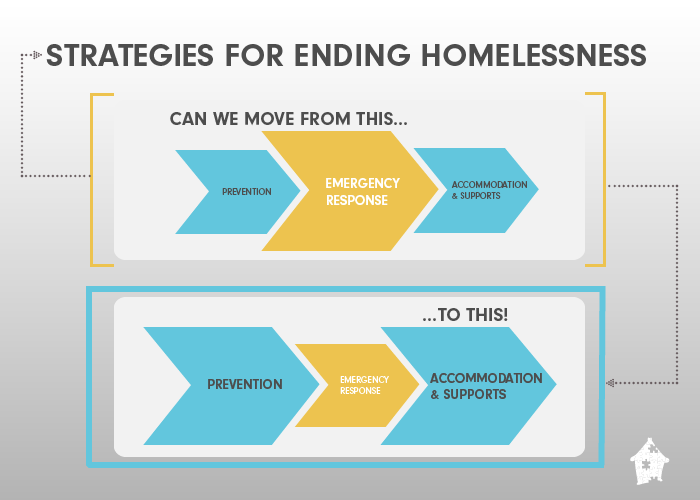 In Canada and elsewhere, much of our effort has been at 'managing' homelessness through an investment in emergency services.  A more strategic response will retain the emergency services (because people will still experience crises that lead them to lose their housing) but shifts the focus to prevention, and moving people out of homelessness.
While it is safe to say that many Canadians now 'get' the idea that homelessness prevention is a good idea, it is often harder to pin down exactly what this means or what it looks like. The good news is that we are learning more about how to conceptualize and implement homelessness strategies.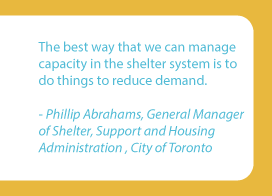 Homelessness prevention approaches are typically based on a public health paradigm, which looks at three levels of preventive interventions: primary, secondary and tertiary. As Culhane points out, these three categories should not be considered discrete, but more accurately, should exist along a continuum.
The goal of primary prevention is to 'work upstream' to reduce risks, and typically involves universal interventions directed at whole communities, as well as targeted interventions for 'at risk' communities. With regards to homelessness, this could include information campaigns and educational programs, as well as strategic interventions designed to help address problems that may eventually contribute to homelessness, well before they arise. Poverty reduction strategies, anti-violence campaigns, early childhood supports, and anti-discrimination work all can contribute to a reduction in homelessness down the road.
Secondary prevention is intended to identify and address a problem or condition at an early stage. In thinking about homelessness, this typically means strategies that target people who are clearly at risk of, or who have recently become homeless. This includes systems prevention, meaning working with mainstream institutions so we can stop the flow of individuals from mental health care, child protection and corrections into homelessness. Early intervention strategies are designed to work quickly to support individuals and families to either retain their housing, or if that is not possible, to use rapid rehousing strategies to ensure people move into safe and appropriate accommodation with the supports that they need.  Elements of effective early intervention include: coordinated assessment, case management, and shelter diversion strategies such as host homes.  Key supports can include family mediation, rent banks, landlord-tenant mediation.
Tertiary prevention is intended to slow the progression of and treat a condition, and through rehabilitation, to reduce recurrence of the problem. In responding to homelessness, this means ensuring that people move into housing, and that they have the supports they need to reduce the likelihood that homelessness will ever occur again.  The focus, then, is not simply to get people housed, but rather, housing stability.  When done correctly, Housing First can be considered a key approach to tertiary prevention. 
The most successful and strategic approaches to homelessness invest heavily in prevention. Both the UK and Australia have a strong focus on prevention. As this is a central theme (and paradigm shift) in the US government's Opening Doors Homelessness Strategy , this will also likely be a key feature of their plan to end homelessness. In all cases, a strong prevention approach requires a coordinated and strategic systems approach, and must necessarily engage, include and mandate action from mainstream systems and departments of government, as well as the homelessness sector. No solution to end homelessness can or should depend only on the efforts of those in the homelessness sector.
Stephen Gaetz is a Professor in the Faculty of Education and is the Director of the Canadian Observatory on Homelessness and the Homeless Hub. He is also President of Raising the Roof, a leading Canadian charity that focuses on long term solutions to homelessness. 
Dr. Gaetz is committed to a research agenda that foregrounds social justice and attempts to make research on homelessness relevant to policy and program development. His research on homeless youth has focused on their economic strategies, health, education and legal and justice issues, and more recently, he has focused his attention on policy and in particular the Canadian Response to homelessness.  He has recently edited two volumes on homelessness in Canada, including: Housing First in Canada – Supporting Communities to End Homelessness. (2013) and Youth homelessness in Canada: Implications for policy and practice (2013). In addition, he has published a book on community-based responses to youth problems in Ireland and written numerous reports and articles published in a wide range of peer reviewed journals. Dr. Gaetz was Associate Dean of Research and Professional Development in the Faculty of Education Prior to his time at York University, Dr. Gaetz worked in the Community Health Sector, both at Shout Clinic (a health clinic for street youth in Toronto) and Queen West Community Health Centre in Toronto.
Dr. Gaetz has played a leading international role in knowledge dissemination in the area of homelessness. York played host to 2005's Canadian Conference on Homelessness – the first research conference of its kind in Canada. In addition, York University now hosts the Canadian Observatory on Homelessness and the Homeless Hub the first comprehensive and cross-disciplinary web-based clearinghouse of homelessness research in the world. The focus of this network is to work with researchers across Canada to mobilize research so that it has a greater impact on homelessness policy and planning.  Through the CHRN Dr. Gaetz is publishing policy relevant research, including two recent reports on youth homelessness: A Safe and Decent Place to Live: Towards a Housing First Framework for Youth. (2014) and Coming of Age:  Reimagining our Response to Youth Homelessness in Canada. (2014), as well as The Canadian Definition of Homelessness (2012), The Real Cost of Homelessness. Can we save money by doing the right thing? (2012), Can I See Your ID?  The Policing of Homeless Youth in Toronto (2011), and  Family Matters: Homeless youth and Eva's Initiatives "Family Reconnect" Program. (2011).
Recent Tweets
Content on this site is licensed under a Creative Commons Attribution Non-Commercial No Derivatives License
The analysis and interpretations contained in the blog posts are those of the individual contributors and do not necessarily represent the views of the Canadian Observatory on Homelessness.