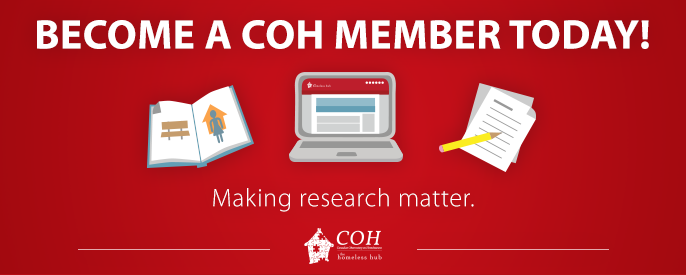 We invite you to become a Member* of the Canadian Observatory on Homelessness! The COH has a strong commitment to 'Making Research Matter'; to mobilizing knowledge and evidence so as to have a bigger impact on solutions to homelessness. We want to bring together interested people and organizations who support this mission.
Membership in the COH is open to individuals, researchers, advocates, service providers, people with lived experience, community organizations and government officials interested and/or involved in issues related to homelessness, and who agree to support our principles and mission.
There is no charge for becoming a Member and you can sign up using the form below. Members receive a range of benefits, including opportunities to:
Support the work and mandate of the COH;
Become signatories to and participate in national, regional and local initiatives sponsored by the COH;
Collaborate on research with other members of the COH;
Participate in projects, programs, special events, training opportunities, research fora and collaborative activities of the COH;
Network with other COH members, partners and co-applicants;
Promote organizations and events consistent with the mandate of the COH;
Receive COH and Homeless Hub communications.
Let's work together to make research matter! Become a Member today and you'll be entered into a draw to win the complete Homeless Hub book collection.
* Associate Members do not officially represent the Canadian Observatory on Homelessness and will refrain from acting as a representative of the COH without permission from the Director or his designate.