The Canadian Observatory on Homelessness (COH) is a non-partisan research and policy partnership between academics, policy and decision makers, service providers and people with lived experience of homelessness. Led by Stephen Gaetz, President & CEO, the COH works in collaboration with partners to conduct and mobilize research designed to have an impact on solutions to homelessness. The COH evolved out of a 2008 Social Sciences and Humanities Research Council funded project called the Canadian Homelessness Research Network and is housed at York University.
To bridge the gap between research, policy and practice, the COH goes beyond the mandate of a traditional research institute. As one of the largest homelessness-dedicated research institutes in the world, we support service providers, policy makers and governments to improve their capacity to end homelessness. Our philosophy is simple: through collaborative approaches across research, evaluation and design, we can develop and mobilize evidence-based solutions and together, prevent and end homelessness.
Research Priority Areas
The work of the COH is organized around eight research priority areas, each designed to involve cross-sectoral partnership and collaboration aimed at conducting and disseminating research for impact:
Understanding systems integration
Models of accommodation and support
Understanding Indigenous homelessness
Youth homelessness
The prevention of homelessness
Legal and justice issues
Measuring progress toward ending homelessness
Mobilizing research knowledge
Our Impact
We know that research alone cannot end homelessness. However, it is our role, and that of our partners, to generate research that supports significant conceptual shifts and provides an evidence base that allows others to implement solutions that truly work toward preventing and ending homelessness. To do so, the COH employs a range of strategies to inform stakeholders and disrupt longstanding, ineffective responses to homelessness.
Establishing An Evidence Base
One of the key objectives of the COH is to build a collective and consistent understanding of homelessness in Canada. To implement effective solutions, we must first understand the causes and consequences of homelessness. Toward this end, we have made significant contributions to the existing evidence base on homelessness.
For instance, in partnership with the Canadian Alliance to End Homelessness, the COH has published three State of Homelessness in Canada (2013, 2014, 2016) reports. Within these reports, we estimate the national prevalence of homelessness and look critically at the progress that has been made locally, provincially and nationally over the course of a year. The State of Homelessness reports are widely regarded as the most reputable estimates of homelessness in Canada.
The COH also conducts primary research. Most notably, in 2016 we conducted the largest ever pan-Canadian study on youth homelessness in partnership with A Way Home Canada. With over 1,100 respondents, Without a Home: The National Youth Homelessness Survey provides an unprecedented understanding of the experiences of homeless youth. The second survey is currently underway, with results expected in 2020.
Mobilizing Knowledge
Knowledge mobilization (KMb) involves processes of engaged scholarship designed to move research into active use so as to enhance its impact on policy, programs and practice. At the COH, KMb begins with collaborative research practices that draw on the various strengths and knowledge bases of partners in the areas of research, policy development, practice, community development and the lived experience of homelessness. Through working with international, national, regional and local partners, our collaborative practices contribute to the establishment of research agendas, the carrying out of research and mechanisms for taking new knowledge to scale. In the end, research cannot be effectively mobilized in the absence of partnership and collaboration.
COH's Research to Impact Cycle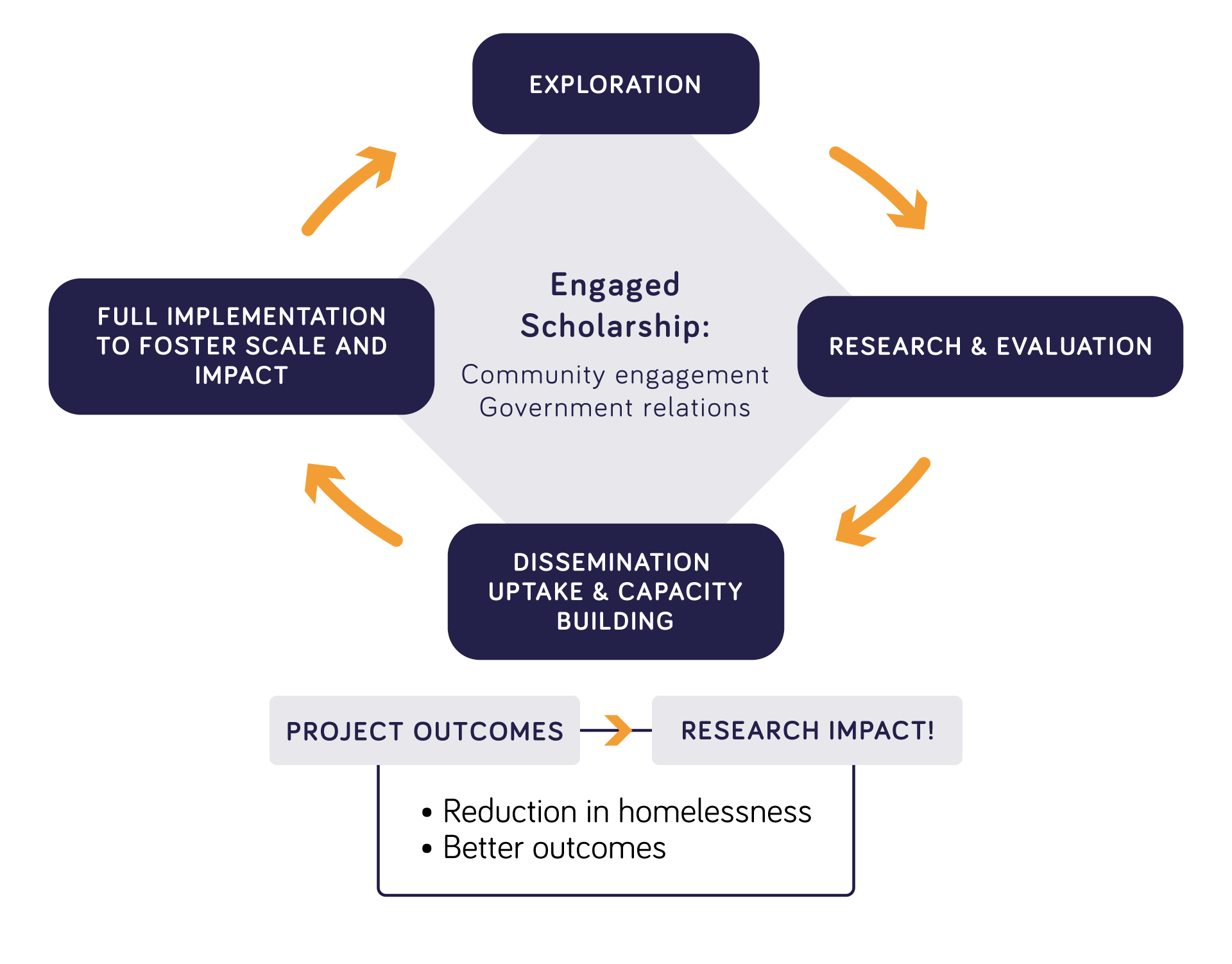 Our approach to KMb begins with a recognition that we must have a solid understanding of knowledge users and their needs, different pathways for mobilization, as well as the factors that enhance or inhibit the mobilization of research and the conditions necessary for policy and practice to incorporate new knowledge. The COH employs a Research to Impact Cycle (developed through Making the Shift – Youth Homelessness Social Innovation Lab) that consists of four mutually reinforcing components. The COH, working with partners, engages in research activities designed to provide decision makers and practitioners at the national, regional, and local levels with critical and timely information, practical, evidence-based and innovative policy and program models, resources, and technical supports that will inform the implementation of effective strategies to address homeless. Promising initiatives emerging from these systematic incubation efforts will be advanced through the innovation pipeline to be further developed, assessed, and brought to scale.
The COH's approach to the mobilization of knowledge involves a number of intersecting areas of activity that support this Research to Impact cycle, including:
Knowledge Dissemination through the Homeless Hub
One of the greatest strengths of the COH is its platform to disseminate and share learning, best practices and resources. The Homeless Hub, the largest online homelessness research library in the world, developed by the COH, houses over 30,000 resources. Among these resources are several plain-language reports, tools, templates and frameworks, designed to be accessible and useful to anyone working, researching or legislating on homelessness.
To bolster our KMb efforts, we use a process of creative problem solving called "design-thinking." Rather than viewing the research process (conceiving, conducting, analyzing, writing) as being separate and distinct from design, publication and distribution, we see these different aspects of research production as integrated and continuous. In other words, we take an interdisciplinary approach to sharing knowledge and encouraging collaboration.
Leveraging the success of the Homeless Hub, we have also built a significant social media presence, which further allows us to share knowledge and resources with a wide and diverse audience. You can follow us on Twitter, Facebook, Instagram and LinkedIn or subscribe to our weekly newsletter.
Creating Shared Language
To develop collective solutions to homelessness, we need consistent vocabulary. What does it mean to be homeless in Canada? How does homelessness differ for groups such as youth and Indigenous Peoples? What do we really mean by 'ending homelessness'? To build consistency across the country, the COH, in collaboration with dozens of partners, has authored three definitions: the Canadian Definition of Homelessness, the Canadian Definition of Youth Homelessness, and the Definition of Indigenous Homelessness in Canada.
Additionally, as part of our efforts to enhance the focus on the prevention of homelessness, we have worked to establish a working definition and typology to provide a common language for preventive strategies in policy and practice. This includes A New Direction: Towards a Framework for Homelessness Prevention, as well as the Roadmap for the Prevention of Youth Homelessness.
Informing Policy
It is the role of the municipal, provincial and federal governments to create favourable policy conditions where on-the-ground responses to homelessness can be effective. The service sector cannot make real gains on ending homelessness without the support of all levels of government. Toward this end, the COH has published a number of policy briefs, including Child Welfare and Homelessness in Canada, Towards an Ontario Strategy to End Youth Homelessness, Leading the Way: Reimagining Federal Leadership on Preventing Homelessness and Mental Health Care for Homeless Youth: A Proposal for Federal, Provincial, and Territorial Leadership, Coordination, and Targeted Investment. Within these briefs we make policy recommendations — based on the latest research on homelessness — for municipal, provincial/territorial and federal governments and Indigenous leadership.
Moving Research into Practice
Research is only useful to the extent that it is translated into practice. Through Hub Solutions, we support service providers, policy-makers, funders and other stakeholders to improve their responses to homelessness through research, evaluation and design.
Most recently, Hub Solutions supported the Region of Peel to conduct a review of their homeless-serving system and make recommendations for improvement based on the latest research on homelessness. Similarly, we have partnered with stakeholders such as Eva's Initiatives, the City of Toronto, End Homelessness St. John's, YMCA of Regina, The Home Depot Canada Foundation, and Canadian Alliance to End Homelessness to evaluate their impact and share their learning with others.
Building Sector Capacity
Responding to a need identified by the sector for practical, easy-to-digest resources and tools, the COH developed the Homelessness Learning Hub (HLHub) – a professional development and community capacity building website tailored to frontline service providers. The HLHub offers collections of resources on topics such as systems planning, trauma-informed care, and Housing First. As the website grows in 2020, we'll develop more self-paced courses with clear learning outcomes.
Encouraging Innovation
It is only recently that there has been a widespread acknowledgment that emergency-based responses to homelessness are unsustainable and ineffective. While shelters, outreach programs and drop-in centres inevitably play an important role in our systems response to homelessness, there is growing agreement that we need to do more.
A key role of research is to inspire conceptual shifts in how we respond to complex problems. This can be through identifying, evaluating and disseminating innovative approaches. It can also come through careful analysis of problems as well as proposing and testing innovative solutions.
The COH, along with our partners, have been on the forefront of advocating for a conceptual shift away from simply managing the problem of homelessness to a focus on prevention, and effective and sustainable exits from homelessness. In 2013, following the success of the At Home/Chez Soi pilots, the COH published Housing First in Canada: Supporting Communities to End Homelessness. This scholarship proved instrumental in helping communities make the shift to a Housing First approach.
The COH has also been influential in inspiring a global shift in how we respond to youth homelessness. The Coming of Age report provided a clear direction for how we must reimagine our response to youth homelessness based on the needs of developing adolescents and young adults, and why we need to prioritize prevention. Subsequently, the publication of A Safe and Decent Place to Live provided a framework for the adaptation of Housing First to meet the needs of youth. With considerable uptake in Canada, the United States and Europe, this framework was built out into a full program model guide called THIS is Housing First for Youth.
In 2017, the COH kicked off the #yearofprevention with the release of A New Direction: A Framework for Homelessness Prevention. A New Direction argues for a drastic transformation of the status quo: a concerted effort to stop homelessness before it begins. Using international examples, the framework operationalizes the policies and practices necessary to successfully prevent homelessness. Above all, it emphasizes prevention within a human rights approach. Drawing upon A New Direction and the insights and wisdom of young people with lived experience, the COH published the Roadmap for the Prevention of Youth Homelessness the following year. The Roadmap provides a clear definition of youth homelessness prevention, including a typology and common language for policy and practice.
The COH also aims to foster innovation in the sector. In April 2019, the COH and A Way Home Canada co-led Making the Shift Youth Homelessness Social Innovation Lab (MtS) launched. Made possible through a $17.9M commitment from the Government of Canada through the Networks of Centres of Excellence program, MtS will bring together researchers from across Canada to work in partnership with service providers, policy makers, funders, private sector partners, people with lived experience of youth homelessness and advocacy organizations. With a five-year mandate, MtS' vision is to establish Canada as the world leader in research and knowledge mobilization regarding effective solutions to preventing and ending youth homelessness.
The genesis of MtS is the Making the Shift Youth Homelessness Demonstration Lab project (MtS DEMS) and is also co-led by A Way Home Canada and the COH. MtS DEMS is supporting demonstration projects on Family and Natural Supports and Housing First for Youth, Housing First for Youth Exiting Care, and Housing First for Indigenous Youth in 10 cities across Ontario and Alberta. Based on the learning from these pilots, the COH will develop tools and resources to support communities across the country to develop innovative solutions to youth homelessness.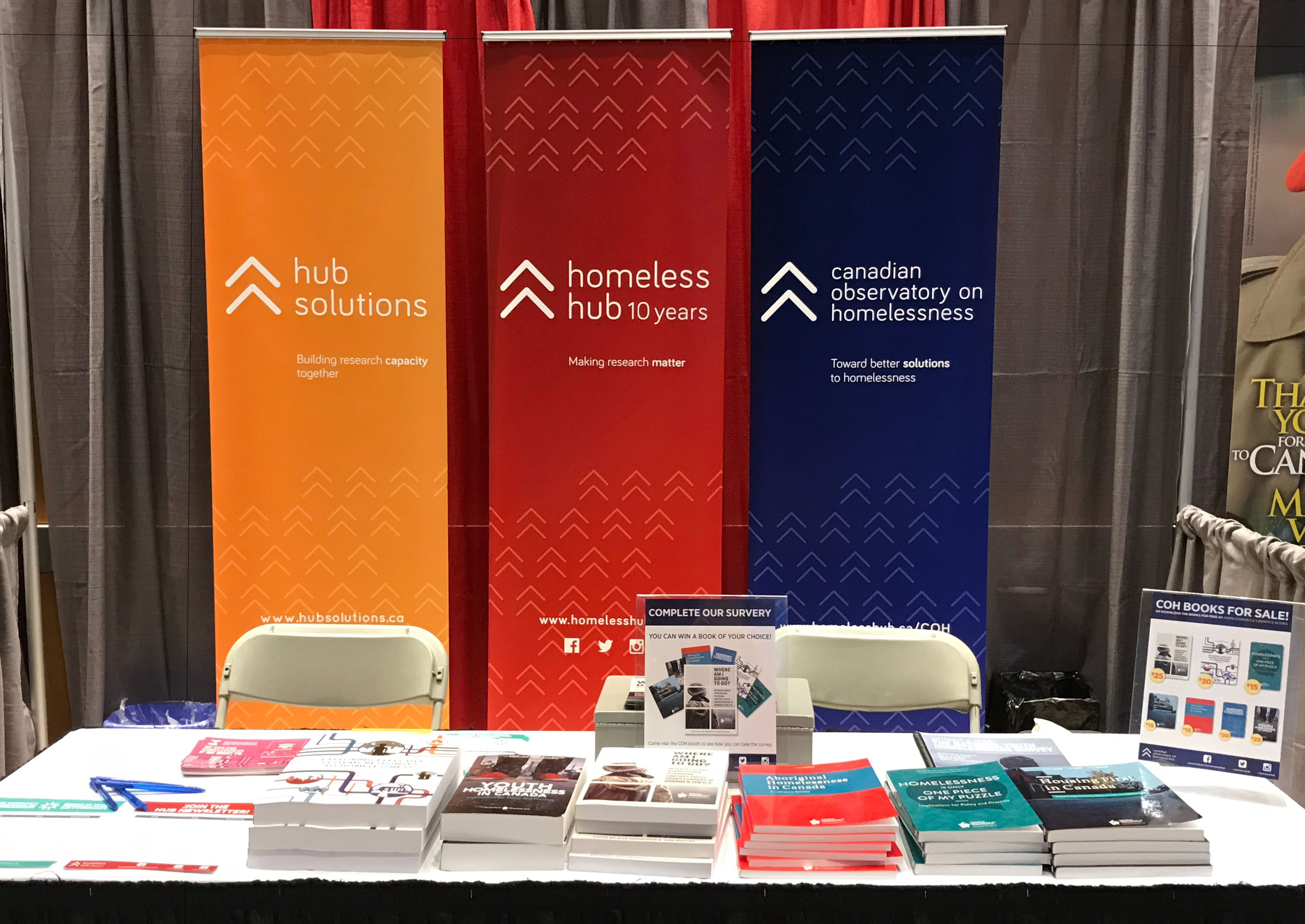 Our Staff
A key strength of the COH is our team of qualified, knowledgeable and diverse staff. We require all staff to have a strong understanding of the causes and consequences of homelessness, whether through education, research or personal experience. Many of our staff have graduate level experience in topics including homelessness, Indigenous scholarship, mental health, criminal justice, LGBTQ2S studies, health and disability research, psychology and social work. Further, some staff contribute knowledge and expertise derived from direct experiences of homelessness.
Our Partners
We regularly collaborate with dozens of national, provincial, and municipal agencies. For example, we have worked closely with: Employment and Social Development Canada (ESDC), A Way Home Canada, the Canadian Alliance to End Homelessness (CAEH), the Canadian Housing and Renewal Association (CHRA),  FEANTSA, the European Observatory on Homelessness, United States Interagency Council on Homelessness (USICH) and National Networks for Youth, to name a few.
Additionally, the COH leverages the expertise of its Advisory Council. It is composed of a wide range of experts on homelessness, including academics, policy and decision makers, service providers and people with lived experience of homelessness.