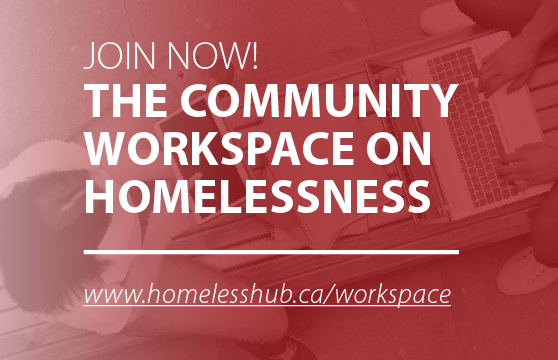 Today, the COH officially launches its Community Workspace on Homelessness. The Workspace is a free, online platform for community representatives, service providers and others working in the homelessness sector to collaborate, share information and exchange resources.
Collectively, we have made notable progress in our understanding of homelessness in Canada. It is through research, ongoing collaboration and the commitment of many that we now know what it takes to end homelessness.
The Community Workspace on Homelessness is designed to further that collaboration. The online platform allows community members to meet and learn from one another. Overtime, the Workspace will become a hub of knowledge and the primary destination to exchange ideas.  
This launch is timely. In 2016, communities across the country will be implementing their first Point-in-Time Homeless Count as part of the HPS Coordinated Count. Fortunately, communities need not reinvent the wheel. Communities across Canada, including Toronto, Vancouver and Calgary, have conducted multiple counts. In 2014, the 7 Cities of Alberta conducted the first provincially coordinated count – there is ample opportunity for communities to learn from one another. If you are planning a PiT Count, the Community Workspace on Homelessness is a place to discuss the planning and implementation of your count – among other issues related to homelessness.
What can you do on the Community Workspace on Homelessness?
✓ Start discussion topics; pose questions related to homelessness; propose new ideas and revisit longstanding practices;
✓ Respond to your colleagues; strengthen your local, regional and national networks;
✓ Share resources, tools and research;
✓ Promote events; and
✓ Get in touch with the COH!
The success of the Community Workspace on Homelessness relies on you – as more members join and participate, the Workspace will become more valuable.  
It is free and easy to register and it is open to everyone! Once you've had a look around, I encourage you to share your feedback with the COH and the Homeless Hub Team – we're looking forward to the conversations.