Do we really need to focus on youth homelessness? Seriously, shouldn't we be putting our energies into addressing the complex needs of adults who have been homeless for years and years?
These are questions that I get asked quite often. There is often a sense that young people wind up on the streets attracted by the excitement and independence of the city, or because they just don't want to "do the dishes". It's assumed that they're bratty kids, who just need to "pull themselves up by the bootstraps" and "get on with it". The lack of interest in youth homelessness is also reflected in the fact that in many communities, youth homelessness is very much a secondary priority. In some places, there is no response to youth homelessness. That is, there are no differentiated services for young people who are homeless, so that if you are 18 or 20, the only option you may have is an all-ages shelter.
I think we are making a big mistake when we avoid making the solving of youth homelessness a priority. In fact, there is a need for a coalition or a movement to end youth homelessness. Here is why. First, youth homelessness is very different than adult homelessness. Young people who wind up homelessness typically leave home where there were caregivers responsible for rent, maintenance, food etc. Young people generally leave without living skills to live independently. Many adolescents and young adults are also going through important physical, cognitive, emotional and social developmental changes. This has an impact on how young people transition to independence. We also need to understand that the causes of youth homelessness are different – family conflict and for many, a history of physical, sexual and emotional abuse, often drives young people into homelessness. It is important to point out that many young people (over 40%) on the streets were once in the care of child protection services.

The second thing to consider is that it is very difficult for any young person today to live independently. Results from the 2011 census show that 42.3 percent of all Canadians between 20 and 29 live at home with their parents. This is not necessarily because they want to but rather because their options are so limited. You see, the world has changed soooo dramatically since the 1950s, when it was possible to quit school at 16, get a good paying factory job and rent a house. Now, people are staying in school longer and longer because credentialism matters so much (the drop out rate in Canada is now less than 9%, although it is 65% for homeless youth). Well-paying jobs are scarce, and in most regions young people have few employment options other than low wage, part-time work. At the same time, we now have an affordability crisis in Canada. Moving out isn't what it used to be.
If we can accept that all of this is true, it begs the question of how we respond to youth homelessness. I would argue that because the causes and conditions of youth homelessness are distinct from that experienced by adults, we need different solutions. We need to stop taking adult models – emergency shelters, day programs etc., and by simply changing the age mandate, create 'homelessness junior'.
No, we need to think about this differently. We need communities across the country to develop dedicated community plans to end youth homelessness, supported by all levels of government. These plans should shift the focus from emergency services, to prevention (including family reconnection), and models of accommodation and supports that work for adolescents and young adults. We need to ensure that institutions like child protection, corrections and mental health ensure that young people are able to transition to safe and appropriate housing, rather than homelessness. We need to ensure that all of our responses put the needs of the developing adolescent first, and make the goal of the work to be growing into a healthy adulthood, not simply training youth to become 'independent'. We need to put education back at the centre of the work, as Canadians generally understand how important this is not only to future earning potential, but also to health and well-being.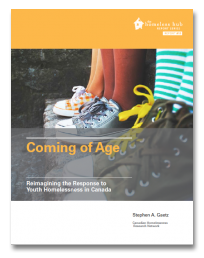 As communities, and as a country, we need to take the response to youth homelessness very seriously indeed. I have been around this issue long enough that I think it is no longer tolerable to let young people languish in emergency shelters for years on end. For if we continue to do this, there is only one outcome - we are creating the next generation of chronically homeless adults.
The complete Coming of Age: Reimagining the Responses to Youth Homelessness in Canada report will be available to download on Monday, March 3rd.
This post is part of our Friday "Ask the Hub" blog series. Have a homeless-related question you want answered? E-mail us at thehub@edu.yorku.ca and we will provide a research-based answer.