Indigenous homelessness in Canada is a massive ongoing problem.
One only has to look at population and percentage numbers to deduce this as fact. In urban settings, 1 in 15 Indigenous peoples are homeless, this compared to 1 in 128 for the general population. Put another way, in some Canadian cities such as Yellowknife or Whitehorse Indigenous peoples make up 90 percent of the homeless population. Places like Thunder Bay and Winnipeg fair somewhat better; an average of 50 percent of the homeless are Indigenous. In Toronto, Canada's largest urban centre, Indigenous peoples constitute around 15 percent of the city's homeless, even though they make up only around 0.5 of the total population. Clearly, it's an out of proportion and big issue. 
The Indian Act, on and off reserve housing, programs aimed at curbing urban Indigenous homelessness, and the "system" in general has, it would seem, failed Indigenous peoples nation-wide and made them housing insecure from Vancouver to Halifax.
But is that it?
Can the problem of Indigenous homelessness be chalked up to what we see on Canadian streets? Is it just unsheltered Indigenous peoples sleeping on the nation's city sidewalks, alcoves, and stairs? Or is there more going on? Better yet, do we as Canadians even understand what Indigenous homelessness is? Has it even been defined properly? Without knowing what Indigenous homelessness truly is, how are dollars and policy supposed to fix the problem? As the old adage goes, you can't fight against something you don't understand.
These are the hard questions and realizations the Canadian Observatory on Homelessness began pondering shortly after the 2012 launch of the Canadian Definition of Homelessness. We quickly realized that Indigenous homelessness didn't fit neatly into the four typologies of the Canadian definition—Unsheltered, Emergency Sheltered, Provisionally Sheltered, and At Risk of Homelessness. There was something more going on, much more.
The Observatory concluded that to solve the problem of Indigenous homelessness we had try something new, we had to define Indigenous Homelessness from an Indigenous perspective. The old way just wasn't working. To do this, we believed that we needed to listen to and consult with Indigenous peoples and let them tell us what they understood Indigenous homeless to be.
Who better than the Indigenous communities to define Indigenous homelessness?
Part of looking at Indigenous homelessness from an Indigenous perspective involved finding an Indigenous person with cultural competency who had both lived experience and academic training. In January 2016 the COH hired me, Jesse Thistle, a Cree-Metis-Scot PhD student and consumer survivor of the streets. The Observatory knew of my lived experience and scholastic training as they had worked with me since 2012 on the book Homelessness is Only One Piece of My Puzzle: Implications for Policy and Practice.
From the outset, I employed an Indigenous methodology in the work of building a definition of Indigenous Homelessness. On February 22nd 2016 Stephen Gaetz, the director of the Observatory, and I entered into a pipe ceremony with Cree knowledge keeper Jenny Blackbird at York University at the sacred fire at the site of the former Tipi behind Osgoode Hall.
Blackbird opened with a prayer and welcoming drum song. She said her spirit helper—the woodpecker—might appear, and if it did, it would be a really good sign to continue our work on the Indigenous homelessness definition.
No sooner than she finished the opening smudge and prayer did the woodpecker show up—we all understood that as a sign that the Observatory was meant to do this good work.
Blackbird also noted that we should be aware that the work is representative of bringing fire to Indigenous and non-Indigenous Canadians, meaning it will illuminate the issue of Indigenous Homelessness and create bonds of kinship between not only Indigenous peoples, but all Canadians. That comment stayed with me and got me thinking.
Community engagement and consultation have been key components of building the definition. First Nations, Metis, and Inuit populations in Canada are vast and diverse—north-south, east-west, rural-urban, and from all places in the country. From the outset, I tried to consult with all of these peoples.
In January 2016, we put a call out for ten National Steering Committee members. The ongoing job of the National Steering committee members has been to brainstorm with me to write draft definitions. They also edit and provide suggestions. It is a very loose, organic kind of consultation. The Steering Committee is comprised of scholars and frontline workers who work on Indigenous Homelessness or who have experienced homelessness. Among them are Trudeau scholar Julie Christiensen, whose research on the northern Dene peoples is invaluable, and Cree-Metis Althea Guiboche, the Bannock Lady of Winnipeg, who both feeds the Indigenous homeless of Winnipeg and knows homelessness from a lived perspective.
Beyond the Steering Committee, there are three more levels of community consultation. The first is the Regional Advisors Committee of 100, who, like the Steering Committee, work with me to develop draft definitions. The next level of consultation is the National Elders Council of 10. The Observatory understands that proper consultation on the Definition must involve the traditional knowledge keepers of Indigenous communities—those being Elders. The Observatory asked that each Steering member provide me with one Elder contact for the National Elders Council to advise us on the final drafts of the definition before it is launched in Fall 2017. We have around three Elders and are looking to expand.
The last level of consultation will be the Town Hall Meetings that the COH plans to open to the public sometime in the spring of 2017. Those who participate will have access to a finalized draft definition that has gone through the three levels of consultation from the Steering Committee, to the Regional Advisors, to the Elders Council.
The concept of "home"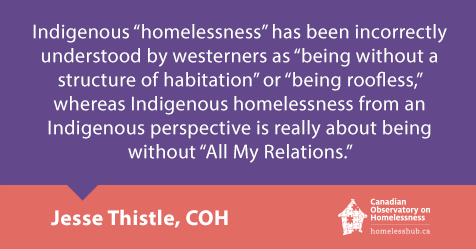 At the same time that we were setting up comprehensive consultation mechanisms, I was also gathering ideas for a definition of Indigenous homelessness. The breakthrough came when I began looking at the concept of "Home."
Western understandings of "home" usually refer to a building or structure of habitation. In contrast, Indigenous worldviews see "home" as a web of relationships that involves connections to human kinship networks; relations to animals, plants, spirits, and elements; relationship to the Earth, lands, waters, and territories; and connection to traditional stories, songs, teachings, names, and ancestors. All these aspects of the circle of interconnectedness are known as "home" in Indigenous societies and worldviews. They are described in Cree and Michif as miyo wahkohtowin (kinship relationships), in Lakota as mitakuye oyasin (All My Relations), and in Inuktitut as ilagiit (kindred).
Thus, I came to the conclusion, with Althea's and the Steering Committee's help, that Indigenous "homelessness" has been incorrectly understood by westerners as "being without a structure of habitation" or "being roofless," whereas Indigenous homelessness from an Indigenous perspective is really about being without "All My Relations."
Being without a physical structure is only a secondary symptom of the real cause of Indigenous homelessness—being without social, spiritual, emotional, and physical relationships. I have since asked Indigenous consumer survivors of the streets if they agree with this interpretation and the majority agree that is accurate, and the loss of "All My Relations" has been caused by Canadian colonization.
We are currently on the 24th draft of the definition and we have collectively built it from the ground up. That is, from the perspective of Indigenous peoples and communities. We at the COH see ourselves as stewards or conveyors of this community understanding of Indigenous homelessness—they told us and we listened. I've presented the definition and its methodology at conferences across the country and some have said our approach is "new" or "fresh" or "innovative" but really it's not, I simply asked the people who know the issue of Indigenous Homelessness best—Indigenous peoples—and asked them to define it.
If you'd like to take part in writing the Indigenous Homelessness definition and/or to be on our Regional Advisors' Committee, contact me, Jesse Thistle, your favorite cousin, at jthistle@edu.yorku.ca.
Kinana'skomitin, Marcee, Miigwetch, Nia:weh, Ch'alechem, Kuk'stemic, Wela'lin, Thank you.