Introduction
In the first blog post in this series, Dr. Alina Turner gave an overview of the Haven's Way program model – a Foyer supportive housing program for youth in Calgary. See full report on the program here.
It is important to complement the research perspective with of those of people 'living' Haven's Way: the staff and youth residing in this home. In the second blog post, Heidi Walter, current Manager of Youth Housing at Boys and Girls Clubs of Calgary and former House Parent at Haven's Way described what she feels is the essence of Havens Way to better convey why it works.
In this blog post, Ange Neil -who was a youth participant and current Alumnae of Haven's Way describes her experience and thoughts on the program.
Haven's Way – What is Home?
Haven's Way is more than a program that used to help me. It's more than a house I used to live in. It's more than a service for at-risk girls experiencing or who are at risk of homelessness.
Haven's Way is a lifeline in the darkness; it's a raft that comes in the middle of the storm and doesn't stop fighting for your life no matter how bad you flounder.
The Start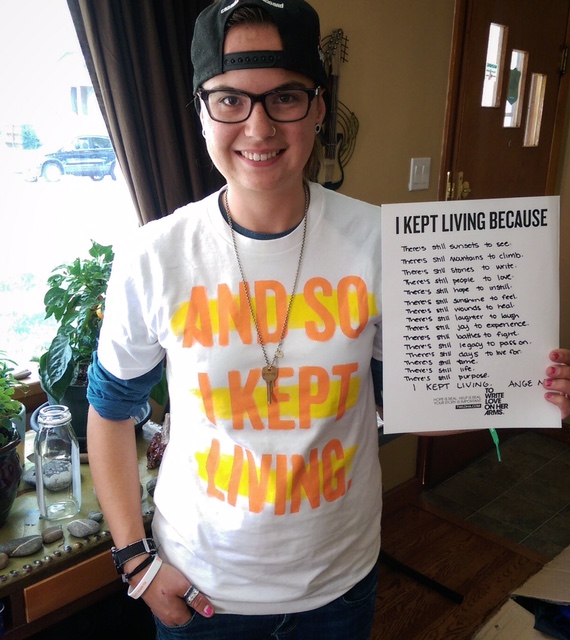 Five years ago, I was 18 years old and stuck between a rock and a hard place. I couldn't go home, I couldn't live where I was living anymore, and I couldn't afford to finish school and pay for the basic needs of life all at the same time. I didn't want to drop out of high school, but what choice did I have? Food and shelter are very real needs when it comes to survival. Besides the basic needs of life, I was lacking mental wellness, my willingness to live, relationship skills, and holding a plethora of adversity in my back pocket. 
You don't get to Haven's Way because everything in your life is going well. You get here with a suitcase full of trauma, stories no one wants to read, and walls stronger than the ones surrounding a maximum-security prison system. And this is exactly how I arrived – angry, beaten, scared, and lost.
My first memory of Haven's Way was painting my room blue and teal during the days leading up to moving in. I picked the colors; my bedding was purple and yellow. We had a family dinner that first night, the same way we did every time another new girl moved in. I was told the rules, given the official house tour, and painted my room. I went to sleep that night feeling scared, angry about where my life was at, and a little bit hopeful. I cried the first night and the house parent living at the house hugged me, tucked me in, and told me morning would be different. I didn't know if I believed her but I liked her. She was gentle, kind but didn't tell me what to do.
Fast-forward six months of fighting love, mental-health episodes gone awry, and a lot of unpacking my dirty emotional baggage something began to shift. I began to realize these people weren't throwing me away like the garbage I felt I was. They didn't give up on me or stop loving me.
Why does it work?
I think one of the reasons this program works so well is because it's rooted in love. That interwoven strand of love wraps through every room in the house, every relationship that enters the front door. It's not about a paycheck or a doing a job for 12 hours. The house parents live in this home just as equally as each girl who lives in the upstairs bedrooms.
Three years passed while I lived at Haven's Way. During that time, I painted a lot of canvas until 3am, ate family dinners, celebrated every holiday and several birthdays, and filled every inch of my blue room with posters and various forms of art. I learned how to live with roommates that became like sisters. I formed communication skills and stopped acting out my internal pain with risky behaviors. I learned to use my words to transmit whatever was going on inside of me.
I didn't just spend six months in a residential program working to stabilize me. No, I was welcomed into a family and given a home. I was given safety and a chance to succeed but also fail. See, when I learned how to fail I ended up learning how to succeed. Making mistakes is common at Haven's Way, being alienated and punished is unheard of. We learn consequences but we learn without being punished. Through my normal late teen-early 20's mistakes, I participated in my journey of life at a level that I never dreamed possible for me.
Looking Forward
I've told you some of the lessons I learned at Haven's Way; some of my successes include entering recovery and leaving behind the drugs and the alcohol for 2½ years now, staying out of the psychiatric ward by taking responsibility for my mental health, not being controlled by my trauma, being an employable member of society, graduating a university diploma program, and currently working towards my degree at the University of Calgary. I share my lessons and successes with you to point out the important role Haven's Way has when intervening in the lives of young women. I could not have done these things if Haven's Way hadn't found me. I needed a safe place to grow up and find myself and I did that at Haven's Way.
I fell a lot during my time at Haven's Way but I stood up every single time because I had my Haven's family beside me.  And as I now form my adult life outside of Haven's Way I continue learning and growing. But I know I can always come home to my Haven's family. I can call any of them and I know they will show up for me. I graduated Haven's Way but I didn't graduate from this circle of community I am now forever a part of.
Haven's Way is more than a program; it's home.