Calgary launches its Plan to End Youth Homelessness
I think it's time to change the way we respond to youth homelessness in Canada.  I began working with homeless youth in the early 1990s at Shout Clinic in Toronto.  At that time, the youth homelessness population was exploding, and communities were scrambling to develop emergency services to meet the immediate needs of vulnerable young people who found themselves on the street.   Today, many years later, we still address youth homelessness primarily through the provision of emergency services, such as shelters, drop-ins and clinics.  Yet for me, the longer I am  involved with the issue of homelessness, the more frustrated I get by the fact that we think this is OK – that it is reasonable to have young people languish in emergency services with limited opportunities, without access to school and with seemingly irrevocable breaches with family.  Our recent report, Family Matters, asks for a radical shift in how we address youth homelessness. 
So, where is the innovation?  Who is going to take the first step?
The Calgary Homeless Foundation just released its "Plan to End Homelessness in Calgary".  Those interested in what an effective and humane response to youth homelessness could look like should really check this out.  There is no doubt that this is the most innovative plan to address youth homelessness in Canada, and if implemented well, will drastically reduce youth homelessness and give many young people a better chance of growing into adulthood in a safe way, with appropriate supports and opportunities. The basic tenets of the plan weren't simply pulled from thin air.  They are drawn from a grounded understanding of effective responses to youth homelessness, particularly from the UK and Australia.  Here is what I like about the plan: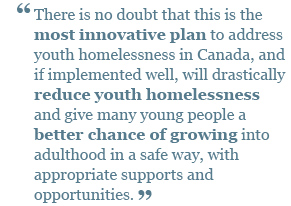 Making the case for an investment in youth homelessness
Many places in Canada have few - if any – supports for homeless youth.  In other places, there are designated services, but these do not always recognitize that the causes of youth homelessness (and thus, the solutions) are distinct from those that characterize the adult population.  Communities need to recognize that there is need for a strategic, coordinated and integrated response to youth homelessness based on the developmental needs of young people.
Focus on prevention
The Calgary plan goes farther than any other Canadian community I know of in investing in the prevention of youth homelessness.  Drawing heavily on really creative ideas from the United Kingdom and Australia, this plan demonstrates how you can make prevention work, by: a) putting systems in place that identify young people at risk of homelessness, and giving them and their families the supports they need, b) adopting a policy that ends the institutional practice (child protection services, corrections, mental health) of discharging young people into homelessness, c) recasting the role of emergency shelters and outreach services, and d) encouraging the development of innovative, coordinated and targeted initiatives that stop young people from falling into homelessness, or conversely, to help them transition into independence in a safe and planned way.
Housing for young people
One cannot address youth homelessness if there is not an adequate supply of affordable and supportive housing options.  Recognizing that young people moving into independent living have special needs distinct from adults (most youth have no experience running their own home), the plan includes innovative approaches to housing young people who can no longer return home, or who have no home to go to. 
Case Management and a Common Assessment Framework
An effective response to youth homelessness does not rely on young people figuring things out themselves (I wouldn't want that for my children).  Rather, there is need for a really good case management approach that prevents young people from slipping through the cracks and in the shelter system for years.  The development and adoption of a 'common assessment framework' (widely used in the UK) will allow for effective client-centred planning and programming.
Role of research and data collection
The Calgary plan that draws heavily on what we know about the causes of youth homelessness, but also effective solutions.  It is a strong example of how we can make research matter.  At the same time, the plan calls for effective implementation of a data management system, so that progress can be tracked, systems evaluated and improvements made.
Community engagement
The process by which this plan was developed relied heavily on engagement with community members including service providers in the sector, but more importantly, young people who have experienced homelessness. 
The Calgary plan's strength lies in its systems level approach that focuses on stopping youth homelessness before it starts and on helping those who do become homeless to successfully move into independent living as soon as possible and with the necessary supports, so that they can grow into adulthood and achieve the promise that we want for all young people.
This is the best plan to address youth homelessness in Canada right now, and CHRA and Eva's Initiatives are preparing to launch their responses to youth homelessness in short order.  Things are beginning to change after all.