We received this tweet from Jordan Dawe on Twitter. He asks where donations can best be used to help people experiencing homelessness.
@homelesshub For donations to help homelessness, what kind of organization helps most? Food banks? Shelters? Giving directly to people?

— Jordan Dawe (@freedryk) August 8, 2014
Thanks for an interesting question Jordan.
Donations are interesting. There has been some great research/stories about how post-disasters (especially big ones) resources of community organizations get swamped just managing donations. The same can be true for community organizations working with homeless folks.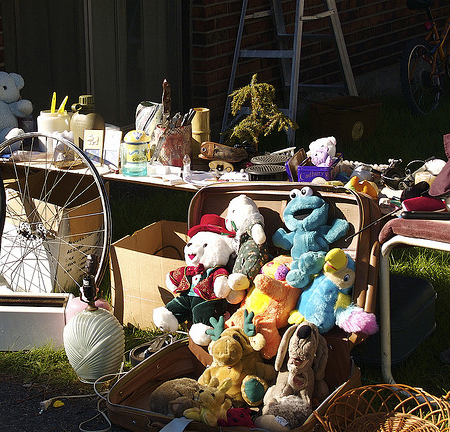 Donating clothing means that someone needs to open the donations, clean it, mend it, sort it etc. etc. etc. Much of what is donated is inappropriate – dirty, ripped, worn, out of fashion or not appropriate (i.e. children's clothes to a single, adult men's shelter). When I worked at a shelter in Oshawa in the mid-90s we had access to a lot of suits from the 60s/70s. In today's environment of limited space and resources, the additional complication of bed bugs means many shelters just refuse to accept clothing or only purchase new clothing for their clients. The latter also speaks to the worth and dignity of the individual. A job search isn't going to be helped by showing up in an outfit that is 30 years out of date, stained and ill fitting. Instead of donating clothes -- have a garage sale and sell what is appropriate and donate the funds raised. You can also look at donating to an organization like Dress for Success which provides professional attire for disadvantaged women who need it. You can donate money or your nearly new suit.
Donating food can also present challenges including the sorting, reviewing, distributing issues listed above. Many people who are homeless are immune-compromised so it is important that any food they receive from a shelter, drop-in or meal program be nutritious and healthy. This is particularly true for prepared food; many shelters will not accept it because there is no way of knowing what it contains, cooking/storage conditions etc. For canned goods, central food banks are better set up to manage large-scale food collection and will then funnel food to food pantries and organizations as needed. When you're donating pick new or non-expired items. See what is listed as most needed by the food bank. Remember, if you want to give ONLY to people who are homeless, you need to know that a large percentage of people who use food banks are housed and a great number are working. For them, food banks are a response to a financial emergency, ensuring there is access to food when money has to go to larger expenditures, such as rent, medical bills, or something otherwise unforeseen. To learn more about the way food assistance programs are accessed by youth who are experiencing homelessness see this chapter of our Youth Homelessness in Canada book.
We wrote about giving to people on the streets asking for money last year in one of our most popular blog posts: Should I Give Money to Panhandlers? As we discussed then this is completely a personal decision. We also suggested a few options for those who were worried about how the money would be spent:
Give the money to an organization working with people experiencing homelessness.
Buy a street newspaper.
Buy a small gift card – i.e. for a local coffee shop or fast food restaurant.
Use the money to donate food to a food bank.
Jordan, your question about what kind of organizations help the most is a good follow-up for our first suggestion of donating directly to an organization.
What we do know is that ending homelessness requires a multi-faceted response. All sorts of organizations are needed and they can't be rated. Shelters, drop-ins, food banks, support programs, counselling, literacy classes, job or life skills training, recreational programs and housing services are all a piece of the puzzle. We won't suggest that one program be selected over another. However, we will give you a couple pieces of advice:
Give from your heart. Did you see an ad on transit or in a newspaper that spoke to you? Are you more interested in youth concerns than adult issues? Do you want to help people get housing? Get food? Find a job? Pick the charity or non-profit that most fits with your desires and interests.
Do your research. Don't be afraid to ask questions. Larger organizations will have a fundraiser or development officer whom you can ask questions. Many websites will list annual reports or you can request one. Ask how your money will be spent. Find out how they stand with the Canada Revenue Agency (understanding that there is a lot of controversy about that these days).
Finally, if you don't have the resources to donate, maybe you have the time to volunteer. Remember some organizations will require a specific skill set, training and/or a vulnerable sectors/police check. You can look for both short and long-term volunteer opportunities. When I worked frontline, the favourite volunteers were those who knew how to cut hair and those who played guitar and could lead a sing-song. Being awesome at cribbage never seemed to hurt either. Overall, just being a sympathetic ear and a friendly face can go a long way.
This post is part of our Friday "Ask the Hub" blog series. Have a homeless-related question you want answered? E-mail us at thehub@edu.yorku.ca and we will provide a research-based answer.
Image from Flickr/colros