For many years, I've been powerfully committed to the idea that the arts have the transformative and energetic power to create social change. Even a cursory knowledge of the history of social movements shows us that art is a powerful tool for challenging power structures, mobilizing communities, and re-imagining more just and equitable futures. I first got a sense of this power as a teenager in Guelph, Ontario, when I was given a small grant to run an arts program at a youth shelter. When the shelter closed overnight, pushing youth onto the street with no transition plan, I began running the program on street corners, in parks, and in the basements of community organizations. I would wheel my arts supplies around in a little white cart, and remarkably attendance seemed to increase! Traveling from across the city and neighbouring communities, more and more youth came to create collages, stained glass, documentaries, paintings, and jewelry. I had the great pleasure of creating artwork side by side with marginalized youth who described themselves as "coming alive" when they were painting, sketching, or making music. These wonderful experiences caused me to ask: What was it about art that was so engaging for these youth? Why did art-making matter so much? 
While arts programming and art therapy is often offered in community agencies and organizations serving youth who are homeless, research on this type of programming has been fairly limited. Available research, however, consistently emphasizes that art-making is particularly important for these young people. Sean Kidd's study, for example, found that for street-involved youth, creating art "was not, as it might be described by many people without adversity in their lives, something merely positive. It was described as something vital to survival". Other research has shown that the arts can provide a safe environment for self-expression for youth who face a range of traumatic experiences and social exclusions, and that youth are able to experience a sense of self-efficacy, self-esteem, and individuality by bringing new artistic works into existence.
Building on some of this important research, I recently conducted a study with Dr. Barbara Fallon on the value of art-making for youth experiencing homelessness. Conducted at a large youth-serving shelter, the study sought to explore (1) youth's understandings of the value and importance of art-making in their lives, (2) the benefits youth attributed to art-making in their lives, and (3) program characteristics that youth viewed as important to successful arts-based programming. Through this study I was able to interview 20 youth experiencing homelessness about the value of arts in their lives. Here are some of the things they had to say:
"Arts are what keep me going . . . it's everything."
"I'd be lost if this wasn't here [at the arts program] . . . I would honestly, like, lose my mind. Honestly. Like this is – I really need this. I feel like a lot of people need this space. It's important for all of us. It's like – we really need this. Just to express ourselves, to be us."
"It's very therapeutic. I think whether it be writing words on a page, like a journal, or whether it be drawing a picture. Your emotions go into that stroke of the pencil."
" [Art] is the one thing that actually helps out a lot . . . I kind of break down on the weekends because I don't have that.
"And once the finished product is done, then I feel amazing. [I think] 'Yes! I did this! It's sick!' . . . It makes me happy. [I think] 'Oh, I can actually still do this, even though I went through this or went through that.'"  
Benefits of Art-Making for Youth Experiencing Homelessness
Our study identified some of the key benefits that youth attributed to art-making in their lives:
Stress Reduction & Relaxation: Many youth identified that creating art helped them feel "relaxed," "calm," and/or helped them deal with stress.
Mental Health Recovery: Many youth felt that art making assisted in their mental health recovery and promoted mental wellness. Several youth felt that art-making was not just important but absolutely necessary for their recovery from mental health issues.
Healing Trauma: Many youth expressed that being in a non-judgmental, safe space in which they were able to create and express who they are assisted with healing past traumas, including experiences during which they had been rejected, abused, or neglected.
Self-Expression & Self-Discovery: Youth commonly explained that art-making provides an important therapeutic form of self-expression, while also providing a space in which to learn about their thoughts and feelings. For some youth, art-making allowed them to express and release difficult emotions, while others felt art-making enabled them to access a more authentic sense of themselves.
Self-Confidence:  Many youth attributed art-making and the arts program to an increase in self-confidence, which they often linked to self-discovery and mental health recovery.
Importantly, youth also identified program qualities that amplified these benefits, including:
The creation of a non-judgmental, safe space;
Flexible programming so youth engage at their own pace; and
Opportunities for staff and other youth to appreciate youth's talents, dreams, and needs through their artwork.
Some youth felt that these characteristics created a social environment in which they were more likely to help each other, seek help from others, think about the needs of others, and listen to one another. 
10 ways the arts can be used to address the individual, systemic, and structural causes of youth homelessness
Given the value that many youth experiencing homelessness attribute to art-making, how can we use the arts in our efforts to prevent and end youth homelessness? Here are 10 possibilities: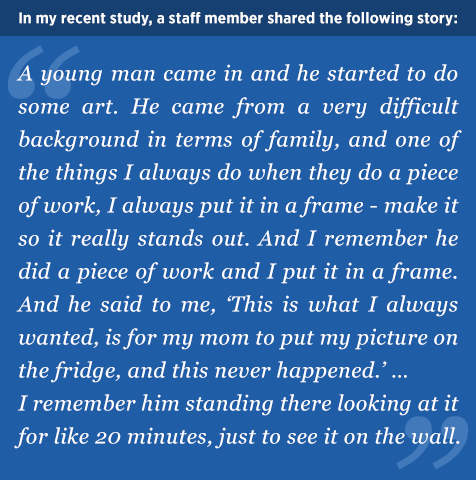 1. Advocacy: Youth experiencing homelessness and their allies can use the arts as a tool to amplify their voices in order to help decision-makers understand their experiences and invest in solutions. A great example of this kind of work is the Arts for Incarcerated Youth Network, which uses the arts to transform the juvenile justice system. 
2. Healing & Recovery from Trauma: Given that many youth experiencing homelessness have histories of trauma, and that homelessness itself is traumatizing, there is a need for services to employ a trauma-informed approach. Various studies have shown that arts-based programming can foster healing and recovery for youth who have experienced trauma. In my study, for example, many youth felt that art-making was crucial to their recovery from traumatic life experiences. Importantly, some youth identified art-making as absolutely necessary for their recovery, as well as the foundation upon which they were able to re-engage in employment, education, and/or training. Such research suggests that arts programs may function as an important pathway to education, employment, or training for some youth who are homeless. A great example of a program that does this work is the Arts & Minds program at Covenant House Toronto.
3. Public Education: Shifting public discourse and understandings about youth homelessness is crucial in order to promote public and governmental investments in solutions. The arts is one of the many tools we can use to foster improved public understanding of the issue, which in turn can encourage government action. Us and Them, produced by Krista Loughton and Jennifer Abbott, is a great example of using filmmaking to transform public perceptions of homelessness.
4. Building Social Supports and Connections: Given the social isolation many youth experience while homeless, arts programs can provide an important opportunity to connect with others, build friendships, and establish support systems. An excellent example of this in Toronto is Sketch, whose theory of change is based on the belief that "if young people living on the margins or homeless engage and develop in the arts, they will increase their resilience and capacity to live well and lead in building inclusive and creative communities."
5. Skill-Building for the New Economy: Young Canadians are finding it increasingly difficult to find employment that enables them to live independently and support themselves. In fact, 42.3% of all young Canadians between the ages of 20 and 29 continue to live with their parents, almost double the figure from the 1980s. In this context, youth are increasingly employing entrepreneurial means in order to generate income, including through creative enterprises. The rise of online platforms like Etsy and Shopify have provided young artists new opportunities to support themselves, while also developing their artistic and business skills. Given this changing economy, educational and employment programs for youth experiencing homelessness should integrate arts-based programming that fosters both artistic and entrepreneurial skills in order to prepare these young people for the new economy.
6. Community Integration: Not only are youth experiencing homelessness isolated from critical supports and relationships in their lives, but as a group, these youth often face systemic discrimination and marginalization because of their housing status (among other factors). Not only does this significantly worsen outcomes for youth who are homeless, but their communities also miss out on the ideas, skills, talents, and ingenuity of these young people. Art-making and arts programs which foster community integration and community building can provide important avenues for youth to see themselves as important members of their society, and for society to benefit from their skills and talents. A great example of this kind of work is Saskatoon Community Youth Arts Programming Inc., which aims to "foster acceptance, integration and equality within the Saskatoon community by carrying out collaborative projects with different sectors, such as business, government, social and health services, and promoting inclusiveness and diverse cultural expression in classes, workshops and presentations."
7. Cultural Connection for Indigenous Youth: Indigenous youth are disproportionately represented among the homeless youth population in Canada. As has been documented by many contemporary reports and studies, including the final report of the Royal Commission on Aboriginal Peoples and the Truth and Reconciliation Report, the disproportionate poverty, violence, and marginalization experienced by Indigenous peoples is directly related to the historical impacts of colonization and ongoing racism. In this context, arts-based programs for Indigenous youth experiencing homelessness, focused on Indigenous art forms and cultural practices, may foster community connections and healing that can support youth to transition out of homelessness. An excellent example of this in Vancouver is the Overly Creative Minds program in the Urban Native Youth Association, which aims to "encourage skills-building, leadership and community engagement amongst Indigenous youth, while celebrating, developing, and sharing their voices and perspectives through dynamic arts and culture programming."
8. Supports for Youth Transitioning from Homelessness: Research has shown that transitions from homelessness can be difficult for youth, and that without the proper supports youth may experience poor outcomes in health, housing, and wellbeing. The Halifax-Toronto Exiting Street Life study, for example, found that transitions out of homelessness can be improved through "access to programs that foster valued identities, skill building, social interaction, and healthy entertainment and stress relief (sports, art, bike repair, etc.). As one of the lead investigators, Sean Kidd, explains, "Engaging the creative process through the arts is a critical tool in this area . . . At a time when many people are feeling alone and uncertain about their place in the world, engaging in the arts builds community and meaning."
9. Research Mobilization: While we have decades of powerful research on youth homelessness in Canada, we have not yet been able to meaningfully reduce the number of young people without housing. As part of our efforts to make research matter, we can utilize the arts to more broadly and effectively communicate research findings to decision makers, who in turn can develop policies that can reduce and end youth homelessness. A great example of arts-based knowledge mobilization is the Halifax-Toronto Exiting Street Life study comic book. 
10. Career Development: Providing youth experiencing homelessness with training in artistic skills can also help prepare them for future careers in the arts. There are some great programs across Canada that connect artistic youth who are homeless with career opportunities in creative industries. For example, The Remix Project in Toronto and Chicago is a creative marketing agency providing career training and experience to marginalized youth who wish to enter into the creative industry or further their education.