Elderly people experiencing homelessness have unique issues that require special provider attention. Bobbi Jo Evans, a housing specialist at Harbor Health Services, Inc. in Branford, Connecticut, discusses the impact of aging on physical health, mental health, finances, and housing.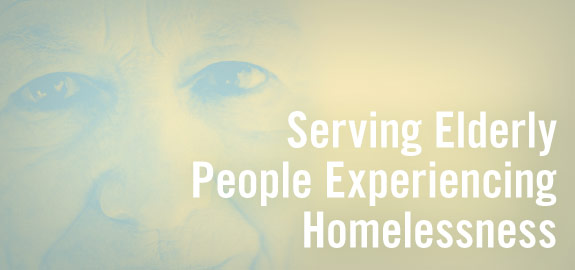 Before I began my position as the housing specialist with Harbor Health Services, Inc., the majority of my professional experience was with elderly populations in low-income housing. I started as a resident services coordinator, and eventually became a property manager. I was aware of the issues surrounding aging in the community, as well as aging at home. Most of the residents were not at risk of homelessness, and did not suffer from mental health issues. They were secure in their housing and able to age in place.
The clients I now work with suffer from issues involving aging and mental health. I see elderly clients with years spent coping with bipolar disorder, schizophrenia, or depression. They struggle daily and face the physical demands of aging. Some live in homes with second mortgages to keep up with bills. Others find themselves taking care of young grandchildren or their adult children who may suffer from mental illness, as well.
An elderly consumer at risk of homelessness, or already experiencing homelessness, presents unique issues that require special attention.
Physical Health
Clients experiencing—or at risk of—homelessness may not be able to take care of their physical health. When I first meet new clients, I explore their daily habits, medications, and overall physical health. I suggest enrollment in our Primary Care Clinic, as well as group meetings that focus on various health topics. If clients do not have the ability to obtain personal care products, I provide them with supplies collected from donations. If they are not able to obtain their medications, I direct them to our doctors and clinicians who have access to a pharmacy fund.
Many clients will say, "I am just getting old, that is why I ache all the time." Aches and pains do not have to be part of being elderly. Encourage clients to seek out medical treatment and advice. If clients are not comfortable discussing health issues with you, find out if they would be more comfortable speaking with someone else. For example, an elderly man may not wish to discuss certain problems with a female provider, but willing to talk to a male provider.
Mental Health
Many elderly clients are not comfortable addressing their mental health issues. Their backgrounds may include families that frowned upon speaking with a therapist, seeing it as a weakness. Clients may also not fully understand their mental health issues and brush off feelings as part of "normal" aging. Depression is not a part of normal aging.
Encourage clients to address their mental health issues, as they would address physical ailments. Support groups—or other groups focusing on the aging population—provide valuable information and support from peers experiencing similar situations.
Finances
The vision of retirement used to be a time that a person, after many years of working, could do virtually nothing and have no worries. Unfortunately, the majority of the elderly population does not enjoy this type of retirement. Many remain working well past retirement age, while others find themselves receiving a very low monthly Social Security income that barely pays for necessities.
When clients find themselves struggling financially, they may become bitter and disenchanted. Their grown children may have families of their own and be unable to help. On the other hand, they may find they have to rely on their children. Whatever the case may be, elderly clients in difficult financial situations will need direction.
There are a number of programs available for elderly clients including energy assistance, Medicaid, tax allowances, and rental subsidies. Work with clients to determine eligibility. Encourage them to realize that asking for help is ok.
Housing
Elderly housing complexes can provide comfortable living at affordable prices. Subsidized housing can sometimes be elderly and disabled housing, which may discourage clients from applying. Elderly clients may not want to live with younger disabled residents. However, low and fixed incomes may limit their choices.
Working with elderly clients to explore housing options when necessary is a slow process. Sometimes you may need to act quickly to remove a person from an unsafe situation. Shelters are not set up for elderly populations. Cots may be uncomfortable, and the requirement to be out of the shelter during the day can pose other issues.
Being proactive is essential when housing elderly clients. Explore all options in the community and contact local agencies that work specifically with elderly populations. I have been seeing an increase in the number of clients who are above 62 years of age and facing homelessness due to foreclosure or eviction. Often, this experience is new to them and they are unwilling to accept that they may have to leave a place they called home for so long.
Providing support throughout the process is essential. We may not always have the answers or the solutions, but we need to be there to provide guidance and encouragement.