We are hiring! If you are an undergrad student at York University with an interest in homeless issues, we may have a position for you. Through the Research At York (RAY) program we'll be hiring three undergrads to help us with our work. Duties will vary but could include creating films, making infographics, writing blogs, monitoring social media and of course, research on homelessness. Deadline to apply is August 23rd. See our job posting for more details.
Our Ask the Hub blog last week got a lot of traction. In large part, it was due to the great infographic designed by our incoming Graduate Assistant, Isaac "The Iceman" Coplan. This new Friday feature lets you ask us the questions. We'll answer with research-based information, or find someone who is an expert on that topic to respond. Last week's question was:
Many times when I come across a person who appears to be homeless, he/she also seems to be mentally ill. In your experience, have you discovered that most homeless people are also dealing with a mental illness of some sort? If so, is one kind of mental illness more prominent than others? Read our answer.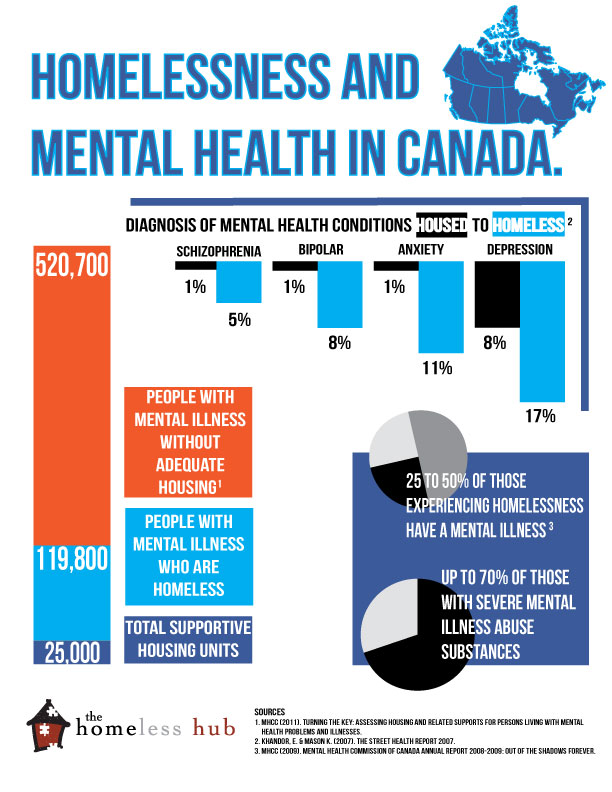 The West Coalition on Housing and Homelessness in Toronto has shared a valuable study conducted by researchers at U of T and their partners about the risks for homelessness. Here at the Hub we believe that prevention is key to solving homelessness and our State of Homelessness in Canada: 2013 report showed that a great many Canadians are at risk. The research – part of the Family Homelessness in the Inner Suburbs – finds that only 1 in 10 families in Toronto's inner suburbs are adequately housed. Researchers used a Homelessness Risk Index to make their assessments focusing on 6 key data points:
Unaffordable housing,
Overcrowded housing,
Unsafe housing,
Insecure housing,
Bad unit conditions, and
Bad building conditions. 
Social Planning Toronto produced a great summary of a recent community meeting. It states, "Initial results show that about half of the families surveyed are facing one to two major housing problems, while 1 in 3 families are facing severe or critical housing problems and risk of homelessness."
Speaking of risk, a blog post from the National Alliance to End Homelessness shared a youth homelessness vulnerability index proposal that was presented at the 2013 National Conference on Ending Homelessness. Factors that put youth at risk include:
Violence at home amongst family members,
Differences in religious beliefs with parents/guardians/caregivers,
Left group or foster home,
First marijuana use under the age of 12,
Spent time in jail or juvenile detention before the age of 18, and 
Been pregnant or gotten someone else pregnant. 
Developed by Eric Rice from the University of Southern California, in conjunction with CSH's Stable Homes, Brighter Futures project, the research finds that only 10% of homeless youth meet 4 or more of the criteria.